The other night I watched yet another documentary by Werner Herzog,
Wheel of Time
, and had some interesting thoughts. Thoughts so interesting I had no recourse but to blog about them. And blog about them
hard
. Watch yo'self.
The film shows and explains, among other things, the pilgrimage of hundreds of thousands of Buddhist monks to Bodh Gaya, the ancient sacred site where the Buddha found enlightenment under a Bodhi tree. Yawn. The film also shows the practice of the creation of a sand mandala, an intricate diagram that is drawn by monks using different colored sands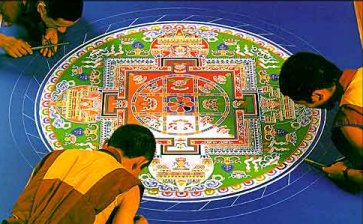 that, when finished, is completely destroyed, like all things, because nothing is permanent, such is life, yadda yadda yadda. In one of the unintentionally hilarious moments in the film, of which there are considerably fewer than in other Herzog projects, Herzog speaks with the Dali Lama and asks him to describe the picture represented by the sand mandala, referred to as the "Wheel of Time." Unfortunately, the Lama has a tenuous grasp on both the English language and, it seems, the precise meaning of the central symbol of his religion. Herzog tries to salvage the answer after a couple of incomprehensible minutes, interjecting in the middle of the Lama's explanation, "So it's all very complicated, then."
Yeah, Werner. You ain't kidding.
The film develops with very little narration or explication and instead leaves to images that which words can't really explain. There was the man who walked 3,000 miles over three and a half years, performing prostrations the entire way (basically, take a step, pray, kneel, lay flat on your stomach, extend your hands fully, bring your hands back to your sides, do a push up, stand up, take a step, and repeat the process). There was the tall rock column in the center of the Bodh Gaya village that, it was believed by villagers, possessed healing powers. The old and the sick hugged it and rubbed their backs on it, tried to grasp it, moving around it slowly in a clockwise twirl. There was the heated argument about the nature of reality, full of fists punching palms, a large group of elders sitting in a circle about the debaters, listening as they made their points. And there was a perforated wall, constructed with slats not unlike prison bars, through which hungry young women held out their hands and who were given morsels of bread and seeds by passing monks.
As I watched the film and witnessed the accumulation of these strange rituals of suffering and physical pain, these entrenched fetishes, the endless attempt to discover the inherent emptiness of existence and, from that knowledge, to find the compassion to truly love others, one thought kept crossing my mind, repeating itself over and over again like some indecipherable Tibetan chant: this could have been the fate of Christianity.
How did Christianity end up the way it did? It doesn't make any more sense than if it had become a religion of bald dudes and wrinkled old women rubbing their asses on an old stone pillar. In his day, Jesus subverted the status quo. Today, Christianity is about maintaining the status quo. The loudest and most common tenet of Christianity espoused in today's world is, "Don't be weird." In all seriousness, modern-day Christianity is, at its heart, about getting your clothes from J.C. Penney or the GAP, driving a Ford Taurus, and listening to U2 albums.
In a parallel universe, Christ died on the cross as a provocateur despised by the Roman state, but his teachings lived on. In time, people began to worship him. They performed rituals that emulated his life and emphasized the lessons of his sermons. As a rite of passage, young men and women traveled to the deserts of Israel and for forty days fasted, praying to God for strength and endurance. In churches every week, as congregations gathered to worship their God and discuss the teachings of Jesus, bowls filled with water were set next to the doorway. All who came to the church removed their shoes and waited as the minister washed their feet before they entered. Jesus once stated that he must "suffer many things, be rejected by the elders, chief priests and teachers, and that He must be killed and after three days rise again." As a way to remember the sufferings of Jesus, future ministers underwent strenous prostrations at seminary. They whipped each other and flayed their backs, not in an effort to be like Jesus, but rather to come to an understanding of the physical suffering he experienced for the benefit of all mankind. A scarred back would become then a symbol of the physical limitations of the human body, and the power of men to rise above pain.
"Blessed are the meek," and therefore the meek become blessed. "It is easier for a camel to pass through the eye of a needle than for a rich man to go heaven," and therefore wealth is abhorred. But not even abhorred; forgotten. These parallel-universe Christians are so focused on the spiritual importance of Jesus that money and possessions become hindrances to piety.
It's almost like they're, uh, Buddhists.
Now, I'm not saying that Buddhism and Christianity are the same religion or even that they are somehow compatible. What I am saying is that the Bible is so contradictory that any religion derived from it can't help but be arbitrary. There is enough in it, and certainly enough in the teachings of Jesus, to have founded a religion not unlike Buddhism. Funny, then, but not surprising, that Christiany has been co-opted and interpreted as a religion for the majority, for the strong, for the rich, and for the well-liked, focused on personal sin and personal comfort and not about emptiness, unworthiness, humility, compassion, understanding, yadda, yadda, and yadda.
What actually is surprising is that Buddhism has survived for so long and has remained true to its core beliefs. Watching
Wheel of Time
gives you a feeling that these people are truly happy, truly serene; that they believe they are both so small in the eyes of God and so large in their own perception of the world around them that they come to a much more realistic understanding of life. And isn't that what all this nonsense is about? Figuring out what we're doing here?
Buddhists may be capital "C" Crazy, but they're also fucking cool and have the amazing ability to eat nothing but soup and tea.
The floor is now open for Dan to tell me everything that I got wrong about Buddhism, and Koopa to tell me everything I got wrong about Christianity. I just want to say that you've been a wonderful audience and I love you all. And no, I won't do that. No, no - seriously, dude, keep your shoes on. I ain't like that. You can wash your own feet.
Asshole.
Jesus Christ, pictured above, is all like, "peace," and, "love," and shit, which is totally stuff a Buddhist would be into.